The Billion Dollar Challenge Workshop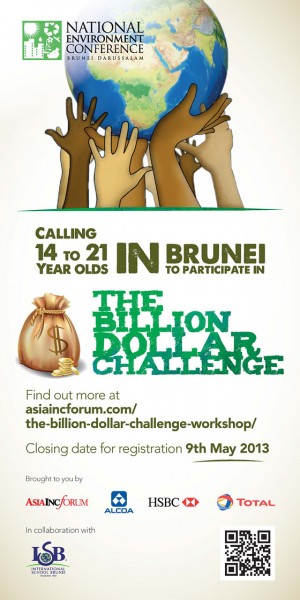 "Every year the UN, NGOs, and governments spend billions on improving the living conditions for people all over the world. Unfortunately, with the amount of money available, it is not possible to solve all problems, which is why the decisions on how to spend the money should be based on knowledge and facts in order to spend it where it would do the most good." – Bjørn Lomborg
About the Challenge:
The Billion Dollar Challenge is convened in the lead up to the 6th National Environment Conference. As Brunei's premier and largest conference on environmental and economic sustainability, the National Environment Conference continues to provide a platform for engaging the public and private sector on the issues of environmental stewardship, natural resources management, and green economy for a sustainable future. Recognizing that youth form a vital part of the global environmental equation, the challenge seeks to provide a platform for these young people to participate in contributing ideas towards solving global challenges.
This challenge is organised by Asia Inc Forum in conjunction with the National Environment Conference in partnership with Alcoa, Total and HSBC in collaboration with International School of Brunei (ISB).
Scenario:
The World Bank has announced the plan to distribute US$1 billion dollars to solve the world's greatest problem. The fund will be given away to the NGO or social enterprise that will come up with the most innovative idea about what they would do with the money.
As an NGO/ Social Enterprise, what would you do with US$1 billion dollars?
The Objective:
To give youth in Brunei the opportunity to decide how they solve the world's biggest problems if they have one billion dollars.
Some of the global challenges (where the teams will be divided into):
Global warming and Climate Change
Sustainable development
Energy
Education
Water
Scarcity and consumption
To join
For students: Form a team of three students per school – either by nomination or by interest.
For individuals who are not currently in school: you may apply as an individual
Fill in the form to bid and tell us briefly why (in 500 words or less) you should be part of the challenge and the global issue you would like to solve.
Submit application via email to fatin.arifin@asiaincforum.com
We will notify you via email or telephone the outcome of your application.
Preliminary Process
Once you are successful,
You will be randomly grouped into teams not exceeding 5 members and will be given a theme to work on.
You will have the opportunity to connect online with your team members.
You have at least three days to do your research prior to the workshop.
The Workshop
All participants will be assembled on 18th May at International School of Brunei and will join their team members.
Teams will be given a period of four hours to work on the ideas, proposals and action plan.
After than all teams will briefly present their plans where debate and discussion will take place.
Participants will vote which teams should be shortlisted.
Judging will follow on the 27th May where shortlisted participants will be invited to present their Billion Dollar Ideas to a panel of judges.
Rules
Participants must be between ages 14 to 21.
Participants must be able to commit to team work.
Participants must be able to be present physically to participate in the activities and judging.
Judging Criteria
| | |
| --- | --- |
| Judging Criteria | Score |
| Clarity of Vision | 20 |
| Appropriateness of Solution | 20 |
| Impact and Influence | 20 |
| Innovation | 20 |
| Relevance to Brunei (Bonus) | 20 |
Deadline
The deadline for submission of interest is on 9th May 2013.
The Award
The top three teams will be invited to attend the National Environment Conference on 4th June 2013 and the ultimate winning team will be invited to present their Billion Dollar Idea during a session at the conference.
Each of the participants will receive a certificate of entry.
Winning teams will be awarded with an educational programme to Temburong (subject to approval by higher authorities).
For more information
Please contact Fatin Arifin, Programs and Research Executive, Asia Inc Forum at 2226555 or via email at fatin.arifin@asiaincforum.com.
To download the Billion Dollar Challenge concept paper, click here.
To download the Billion Dollar Challenge workshop, click here.
Application Forms
If you are currently a student in school, download this form.
If you are not currently a student in school and want to apply as an individual, download this form.
Note: If you are in school, you are required to get the permission from the principal and get a supervising teacher to supervise you throughout the challenge.