Nat'l environment meet in August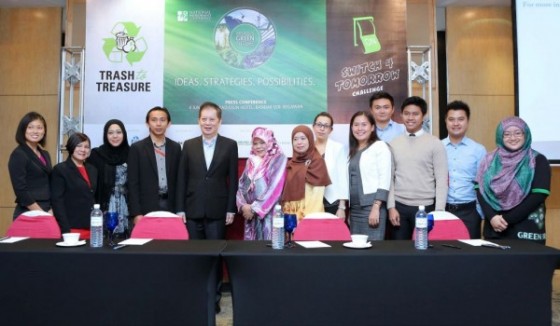 Quratul-Ain Bandial
BANDAR SERI BEGAWAN
Thursday, June 5, 2014
ASIA Inc Forum's annual National Environment Conference (NEC) is set to take place on August 13 at the Empire Hotel and Country Club.
"It will be an excellent opportunity for all stakeholders interested in environmental sustainability to learn, exchange ideas, network and discover new opportunities," said Dato Timothy Ong, chairman of Asia Inc Forum.
Themed "Brunei's green future: Ideas, strategies, possibilities", the conference will feature experts from the region and the United States, who will lead discussions on various topics, including renewable energy, leading sustainable lifestyles, and business opportunities arising from environmental challenges.
Some of the featured speakers include Milo Sjardin, head of Asia-Pacific Bloomberg New Energy Finance; Edwin Khew, chairman of Sustainable Energy Association of Singapore; and Erin Schrode, co-founder of Teens Turning Green USA.
Leng May Low, a programme executive at Asia Inc, added the organisers are taking a keen interest on "social entrepreneurship" — how businesses can create incentives to encourage people to conserve resources and recycle.
An example of this is the "Trash to Treasure Campaign" — which will run in the lead-up to the NEC — aimed at promoting recycling habits in the community.
All households and businesses are eligible to nominate one representative, who will separate their trash by material, such as paper, plastic, aluminum, electronics and metal.
Each kilo of recyclable material will be converted into points. Paper, plastic bottles/containers and electronics (which must contain the power circuit board) will garner five points per kilo, while metal and aluminum will earn 10 points per kilo.
Since glass cannot be recycled in Brunei, large electronics containing glass, such as televisions, will be deducted by five kilos.
Collection of recycled material will be held on two days — June 22 and August 10 at Hassanal Bolkiah National Stadium.
The top three recyclers in each category will receive prizes at the NEC in August. The proceeds from the campaign will be donated to participating NGOs for environmental projects.
In addition to the campaign, Asia Inc is also organising the "Switch 4 Tomorrow" challenge, where students in secondary and tertiary institutions are invited to create a video advertisement promoting energy-saving practices.
Videos must contain a catchy slogan and entries are to be submitted by June 16. Shortlisted entries will be uploaded to the Asia Inc Forum YouTube channel.
Winners in the three different categories will receive an educational trip from the organisers.
For more information, please contact Asia Inc Forum at 2226555 or visit www.asiaincforum.com. Registration forms can be obtained at its office at No 6, Regent Square, Spg 150, Kiulap.
The Brunei Times
Source: http://www.bt.com.bn/news-national/2014/06/05/nat%E2%80%99l-environment-meet-august