National Environment Conference 2014

Brunei's Green Future: Ideas, Strategies, Possibilities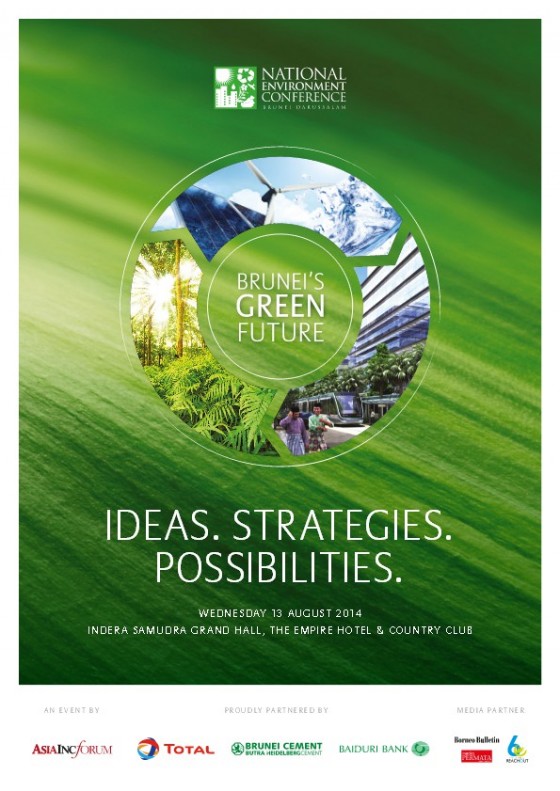 Date: 13th August 2014
Venue: Indera Samudra Grand Hall, The Empire Hotel & Country Club, Brunei Darussalam
Now on its 7th year, the National Environment Conference brings together up to 250 key stakeholders and leading members of the public and private sectors and academia to discuss pressing issues of the environment and economy.
This year's conference will revolve around the theme "Brunei's Green Future: Ideas, Strategies, Possibilities", discussing ideas for energy conservation, strategies for green and sustainable development and possibilities of energy transition.
Alongside the conference, a Green Expo will take place gathering global and local industry leaders and the public to network and exchange goods, services and knowledge in the context of green living. This year's Green Expo will showcase green initiatives undertaken by corporate leaders, as well as eco-consumer products by commercial enterprises.
Convened by Asia Inc Forum in collaboration with Total E&P Borneo B.V. and Butra Heidelberg Cement, the National Environment Conference is a platform for engaging the government and private sector on issues of environmental stewardship, natural resource management, and the green economy for a sustainable future.
To view the programme, click here.
To download the brochure, click here.
To view the speakers, click here.
To view the participants, click here.
To view the Trash to Treasure (T3) Campaign, click here.
To view the Switch 4 Tomorrow Challenge, click here.
PowerPoint presentations by the speakers:
I) "Focus on Renewable Energy" by Milo Sjardin
II) "Singapore's Cleantech Strategy" by Edwin T.F.Khew
---
Corporate Partners

Media Partners