Brunei Local Business Development Program 2017

Date: 27-28 September 2017
Venue: Radisson Hotel, Bandar Seri Begawan, Brunei
The Local Business Development Program is an initiative of Asia Inc Forum that encourages local SMEs to develop and grow as the backbone of the Brunei economy.
Featuring a powerful lineup of established and game-changing entrepreneurs, practitioners and bright minds from Brunei and abroad:
CONFIRMED SPEAKERS FROM ABROAD

Raj Kumar, CEO, UCSI Blue Ocean Strategy Consulting, UCSI Consulting Group, Malaysia – a Blue Ocean strategy and innovation expert developing businesses across 25 countries

William Du, Founder and CEO, Ingenious Haus Group, Malaysia – a sought-after financial advisor who helps businesses tap Australian, UK and Malaysian capital markets

Adrian Tan, Program Director, Vietnam Innovation Accelerator Program – a highly experienced Lean Startup coach who has mentored, trained, and scaled over 1,000 startups and large enterprises across Asia

Aliza Napartivaumnuay, Co-founder, Socialgiver, Thailand – an acclaimed social entrepreneur with a fast-expanding network in Thailand
CONFIRMED SPEAKERS FROM BRUNEI
Shy Nokman, Founder, Sparkle with Shy
Vanessa Teo, Founder, Agrome IQ
Nicky Wong, Executive Director, Gong Cha
Lily Chiam, Founder, Expressions Music
Edwin Solomon Khan, Director & GM, KMST
Lucy Bartlett, Co-Founder, Bundle Beds
YB Khairunnisa Ash'ari, Founder, Green Brunei
Leslie Chiang, Founder, Sumbiling Eco Village
…with more invited inspirational speakers and panelists to join the program.
The full program can be downloaded here.
Press Releases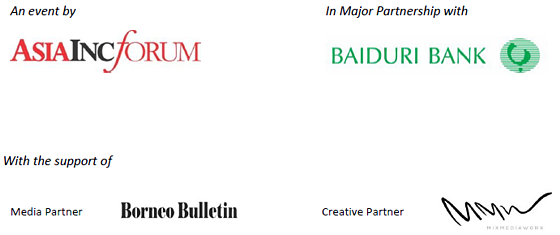 ---
Please sign up below if you wish to receive updates.
We respect your privacy. Your email will be kept confidential. We do not disclose emails to other parties.