APEC China CEO Forum 2013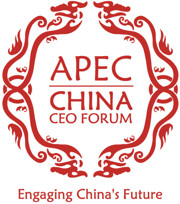 Venue: Sheraton Beijing Dongcheng Hotel, Beijing, China
Date: 12-14 July 2013
Website: www.apecchinaceoforum.com
Email: info@apecceohina.com
Contact: waihong.fong@asiaincforum.com
ABOUT APEC CHINA CEO FORUM
As global business leaders continue to understand the emergence of China, to build and strengthen relationships, and to cooperate in achieving its goals and challenges of sustainable development, the China Council for the Promotion of International Trade and Asia Inc Forum, the Strategic Partner for the majority of the APEC CEO Summit's over the past decade, decided to convene the inaugural APEC China CEO Forum in June 2012.
The APEC China CEO Forum is a China centric business event complementary to APEC's business goals and the region's most important and influential business summit, APEC CEO Summit, which is held in conjunction with the Asia Pacific Economic Cooperation (APEC) Leaders Summit which gathers the 21 leaders of the 21 APEC economies. The purpose of the Forum is to raise the profile of the Summit by highlighting China centric issues that can be further discussed at the Summit.
The Forum intends to build relationships between the Chinese business community and that of the Asia Pacific. Essentially, the Forum aims to bring together key stakeholders, both from within China and internationally, who want to better understand the opportunities and challenges of doing business with and in China.
APEC China CEO Forum will also provide an exclusive platform for Chairmen, CEOs and Senior Executives to interact and network, for a better common future.
For more information, visit us at www.apecchinaceoforum.com.