APEC CEO Summit Bali 2013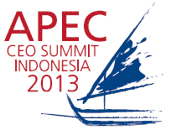 Venue: Bali, Indonesia
Date: October 5-7, 2013
Website: www.apec2013ceosummit.com
Email: Allen.Lai@asiaincforum.com, Lucien.Ong@asiaincforum.com
Contact: Allen Lai, Director
ABOUT APEC CEO SUMMIT
Asia Inc Forum has a proud partnership history with the region's prestigious APEC CEO Summit. Asia Inc Forum has been responsible for both driving and advising on sponsorship, programme development, speaker selection and logistical preparations for most of the APEC CEO Summits since 2000.
Asia Inc Forum is the Strategic Partner to APEC 2013 CEO Summit.
and Previous APEC CEO Summits over the years:
– 2011, Hawaii, USA
– 2009, Singapore
– 2008, Lima, Peru
– 2006, Hanoi, Vietnam
– 2004, Santiago, Chile
– 2003, Bangkok, Thailand
– 2000, Bandar Seri Begawan, Brunei Darussalam (organizer)
The 2013 CEO Summit will provide opportunities for business executives to engage in dialogue with global leaders and ministers of foreign affairs and trade, discover business opportunities through networking with CEOs from hundreds of top Asia-Pacific companies, and to forge connections with economic thought leaders from around the region and the world.
The theme for the 2013 CEO Summit is "Towards Resilience and Growth: Reshaping Priorities for Global Economy." We are excited about the list of world-class speakers and quality mix of international delegates that have registered interest to participate at the Summit.
Asia Inc Forum is delighted to be working with AsiaPac Business Advisory Center as its representative in China in relation to the Summit. Please contact Allen Lai or Lucien Ong for more details.