APEC CEO Summit 2011
Asia Inc Forum has a proud partnership history with the region's prestigious APEC CEO Summit. Asia Inc Forum has been responsible for both driving and advising on sponsorship, programme development, speaker selection and logistical preparations for many of the APEC CEO Summit since 2000.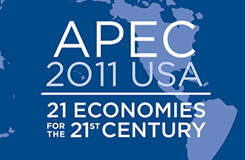 Asia Inc Forum is the Strategic Partner to APEC CEO Summit 2011
and Previous APEC CEO Summits over the years:
– 2009, Singapore
– 2008, Lima, Peru
– 2006, Hanoi, Vietnam
– 2004, Santiago, Chile
– 2003, Bangkok, Thailand
– 2000, Bandar Seri Begawan, Brunei Darussalam (organizer)
APEC CEO SUMMIT 2011
The 2011 CEO Summit provided opportunities for business executives to engage in dialogue with global leaders and ministers of foreign affairs and trade, discover business opportunities through networking with CEOs from hundreds of top Asia-Pacific companies, and to forge connections with economic thought leaders from around the region and the world.
Date: November 10-12, 2011
Location: Sheraton Waikiki
To download the brochure click here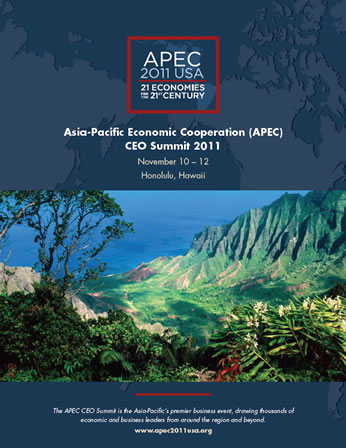 To view the programme, please click here.
APEC by the Number
55% of Global GDP
58% OF U.S. exports
market of 2.7 billion consumers
7 of America's top 15 trade partners are in APEC
About APEC CEO Summit
The APEC CEO Summit is the Asia-Pacific's premier business event, drawing thousands of economic and business leaders from around the region and beyond.
The APEC CEO Summit brings together the most brilliant of minds, top government and business leaders around the region to address the current economic landscape, identify the direction of future trends and assess areas of collaboration for the Asia-Pacific region.
About APEC
The Asia-Pacific Economic Cooperation (APEC) forum is the premier economic organisation in the Asia-Pacific region. Established in 1989 by 12 economies, including United States, APEC fosters growth and prosperity by facilitating economic cooperation and expanding trade and investment throughout the region.